So . . . SLO REP's production of Mark Brown's adaption of Around the World in 80 Days doesn't take as long as the title suggests to go 'round the world, but it does deliver the hustle and bustle and action and adventure that make this race against time an audience-pleasing romp.
At under two-and-a-half hours (with one intermission), the show offers numerous ingenious solutions to the problem of depicting an "itinerary" that includes travel between London, Suez, Bombay, Calcutta, Hong Kong, Yokohama, San Francisco, and New York. Train travel, watercraft, and even an excursion (perhaps more appropriately labeled an escape) via elephant are all humorously and perfectly depicted. The show's designers—Randon Pool, Dave Linfield, Lisa Langere, and Kevin Harris—have created a fun and functional roadmap for the frenetic action this show demands.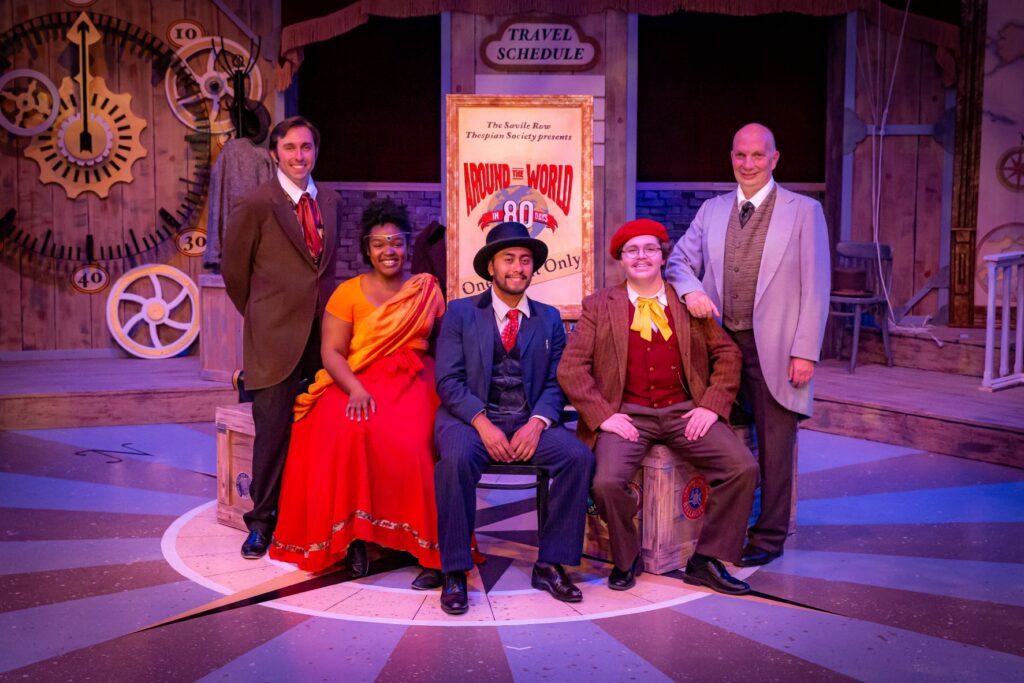 Its five (only five!) actors do a tremendous job playing an exhausting number of roles, not that they show any evidence of fatigue—they are clearly in top shape to do this night after night. Tony Costa, Billy Breed, Isaac Capp, Etasha Caston, and Johnny Valerio (the only SLO REP newcomer in the acting crowd) couldn't be more well-chosen as our guides into this preposterous but promising world created by Jules Verne in his 1872 adventure novel. Putting on and throwing off so many different characters and so many different accents never seemed so effortless, but the unmistakable work behind the scenes to bring this about so successfully makes this trip a must-see on your fall itinerary.
Add to the uncountable cast of characters an exhausting number of scene changes, costume changes, and lighting changes (and quite a few serviceable props) and you have a show that must be seen to be appreciated for its precise choreography and masterful use of light and sound. Expect to hear gunshots, a rushing locomotive, the tempest of a typhoon, and other assorted bells and whistles that aren't part of everyday life, but that add indescribably to the pleasurable entertainment on display here.
A shout-out to stage manager Isabel Torres here: a production as complicated as this simply cannot work without a tried-and-true hand on the tiller making sure all goes as planned. After establishing her bona fides with last season's not-as-complicated-but-not-without-its-challenges Xanadu, Torres is making her mark on SLO REP in this demanding, behind-the-scenes role.
Director Lawrence Lesher, who calls New York home, has helmed this show several times before, and it shows. He gives his actors something to do every single second they are onstage, leading to a delirious dance that leaves the audience little time to recover between amusing bouts of verbal and physical tangles. This translates into exaggerated exchanges (why hand a piece of clothing to someone else when throwing it will do nicely?) and expansive exits (why simply step offstage when sweeping imperiously works just as well?). Looking for dashing dialog, close calls, flights of fancy, or escapism pure and simple? This show's for you.
A word about the opening of the show, which in light of current events can't be overlooked. When the lights go up, and the musical strains of "God Save the Queen" initiate the proceedings, it takes a moment to appreciate the fact that the homage is for Queen Victoria, whose portrait establishes that we are in 1872 England, not the current United Kingdom mourning the loss of its modern-day queen.
Around the World in 80 Days plays now through September 25 at San Luis Obispo Repertory Theatre, 888 Morro Street, San Luis Obispo. More Information.