PCPA promises a spectacular adventure, and thanks to imaginative direction, choreography, lighting and scene design, The Little Mermaid delivers.
---
So . . . there is little to call "little" in the The Little Mermaid, PCPA's inaugural offering of its 2019-20 season. Everything about this production is large: big voices, voluminous costumes, a hefty number of cast and crew, even the staging, which director Melissa Rain Anderson has expanded beyond the usual performance area to include the space above the thrust stage as well as that usually reserved for the audience.
And in this case, bigger really is better.
Excess is on full display to the delight of audiences in this story of an adventurous mermaid who'd rather be above, rather than under, the sea. PCPA promises a "spectacular" adventure, and thanks to imaginative direction, choreography, lighting and scene design, this production delivers.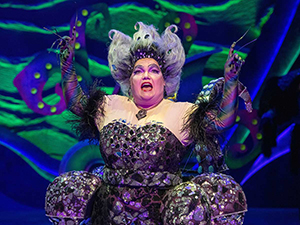 Cast and crew have obviously worked long hours to create a nearly seamless flow of joyous song, dance and magic—the last due in large part to the creative theatrics of New York-based 2 Ring Circus, whose members Ben Franklin and Joshua Dean and the players they have trained perform some impressive aerial feats to help you make some imaginative leaps: a sailor climbing the rigging of a ship rolling on the ocean surface, a sea creature flouncing 20 feet above the ocean floor, just for a couple of examples.
Then there's the music. Every aspect of the catchy numbers here—more than 20 in all—has been delightfully and carefully staged thanks to the fine, fine work of guest artist Adam Cates (choreographer) and music directors Brad Carroll and Michael Wilkins. They have been given an enormous amount of talent to work with, however. It's not always the case that all voices in a cast this large can hit all their notes (which they do). It's not always the case that all those bodies can make dancing under the sea look like dancing on air (which they do). This is a sparkling group of actors who as a whole deliver this production of The Little Mermaid as if they were presenting an extravagant and hilarious holiday gift to the audience.
Of course this solid lineup of excellence makes it difficult to single out any one player. But by the end of the show, the highest accolades must go to three of PCPA's resident artists.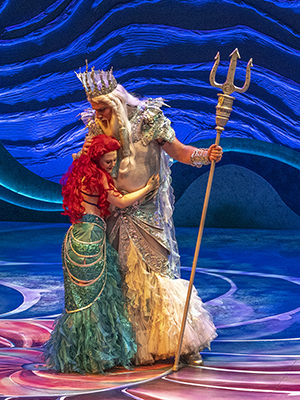 A veteran of more PCPA productions than anyone can count, Kitty Balay plays the evil Ursula with such delight you want to go up on stage and hug all eight of her tentacles because you can't really believe she's as bad as all that. Her song "Poor Unfortunate Souls" couldn't have been done better by Mae West at the height of her career.
George Walker, who trained at PCPA and who has been with them since 1999, is Scuttle, a seagull as full of incorrect information as he is comically full of himself.
Yusef Seevers, by contrast only with PCPA since 2018, manages to capture hearts as Sebastian, a crab whose loyalties are divided between King Triton (an imposing Erik Stein—think Aquaman with white hair) and the King's daughter Ariel (guest actor Katie Emerson, whose vibrant voice gives lie to any description of her as "little"). Seevers' rendition of one of the show's most recognized songs, "Under the Sea," backed up by an amazing array of sea creatures and singers, is one of the highlights of the show's two-hours-plus running time.
With ingenious lighting (PCPA veteran lighting designer Jennifer "Z" Zornow never disappoints) and a single, imaginative multi-purpose set by scenic designer Jason Bolen, the demarcations between land and sea, human and fish, even good and evil, are easily and naturally discerned.
The Little Mermaid is one for PCPA's list of "bests." If you are looking for smart entertainment, a holiday treat for the whole family, or simply an education in leveraging pieces of natural talent into a crowd-pleasing whole, you've found it.
---
The Little Mermaid plays now through December 22 at PCPA in Marian Theatre at Allan Hancock College, Santa Maria. Tickets HERE or call 805-922-8313.