As advertised, Pump Boys and Dinettes at The Great American Melodrama is a toe-tapping, one-of-a-kind experience that will register on your fun-meter for months to come.
---
So . . . eclectic, surprising, and a whole lot of fun. That's Pump Boys and Dinettes, a crowd-pleasing patchwork quilt of a musical headlining The Great American Melodrama's first show of 2020.
Upfront it's best to understand what this show is not: it's not a plot-driven musical with dialogue or denouement. It's a string of highly entertaining and varied songs that individually capture slices of life, love and longing from a certain time (1974) and place (Highway 57 somewhere between Frog Level and Smyrna, North Carolina). With titles like "Be Good or Be Gone," "The Best Man," and "Closing Time," however, the tunes have a timeless quality, and in this production with these players, you will think the time is now.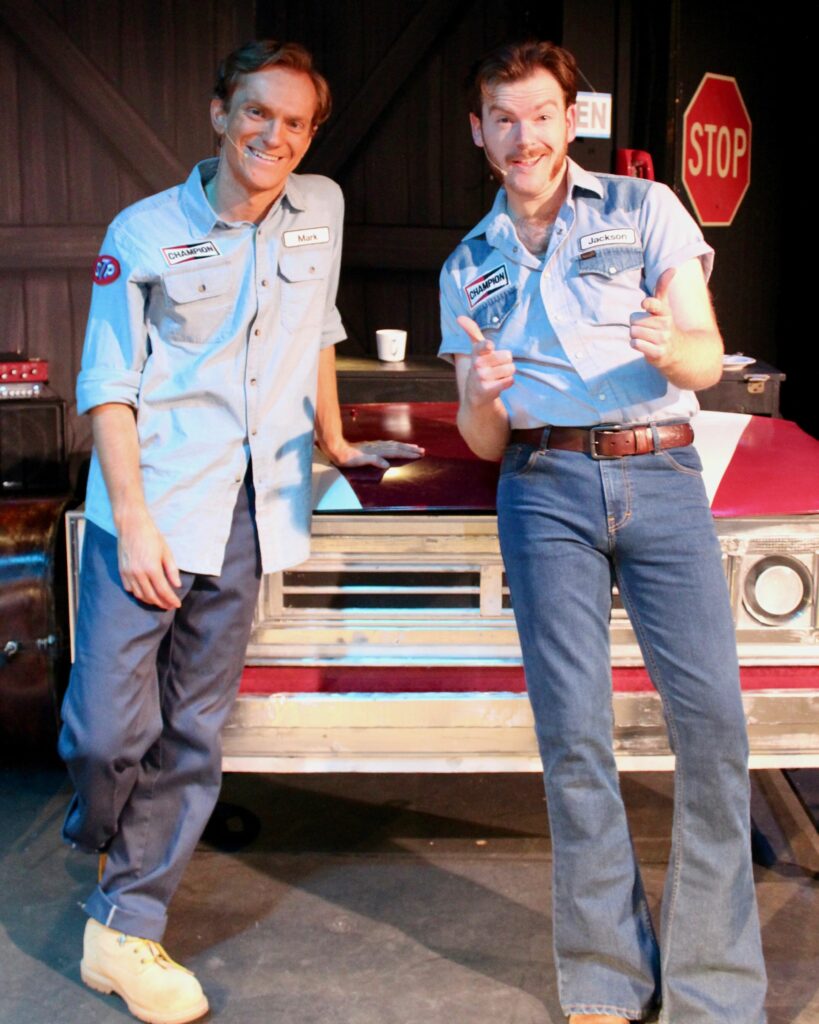 It's certainly time to have fun, which comes in the form of the show's six-pack of talented performers, who sing all the songs and play all the instruments as well as jitterbug, jive and even tap-dance in this musical mixed-bag. Each one gets at least one spotlight during the evening, but it's in the ensemble pieces that their musical versatility and camaraderie serve the production well.
The four Pump Boys are quite a mix of characters. Alejandro Gutierrez, Kurt Morrow, Mark Schenfisch and Mike Fiore play an unlikely quartet of band-mates—unlikely because where else would you find four pump jockeys each so multi-musically-talented in his own right? Their interaction here reads like these skilled musicians are having the time of their lives playing and singing together.
Their supportive and generous performances are mirrored in the Dinettes, the distaff duo that runs the Double Cupp diner next to the Boys' gas station on Highway 57. Eleise Moore and Katie Worley-Beck play the hard-livin' hard-lovin' sisters with gusto, throaty-voiced comedic timing, and a surprising ability to extract music from kitchen utensils.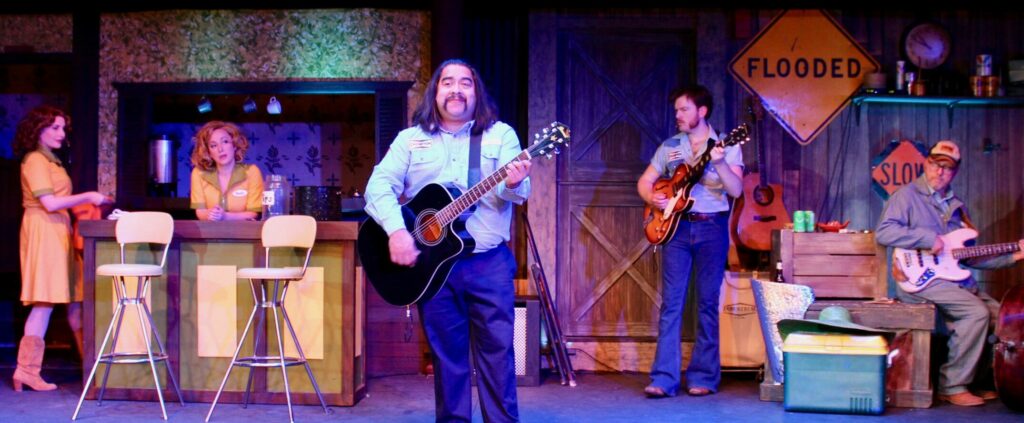 If you had never heard of Pump Boys and Dinettes, you might assume from descriptions of the 1982 Tony-nominated show that its music is country-themed through and through (especially with song titles like "The Night Dolly Parton Was Almost Mine"). And country rock certainly permeates the proceedings, but the range of musical styles exhibited, from rock to stride to a cappella, will likely come as a most pleasant surprise to the uninitiated. Keep in mind that this is the kind of entertainment where the piano player who sings also plays accordion—and tap dances, too.
As much as this is an ensemble show, some individual highlights stand out thanks to deft direction by Allison Bibicoff and music director Erik James.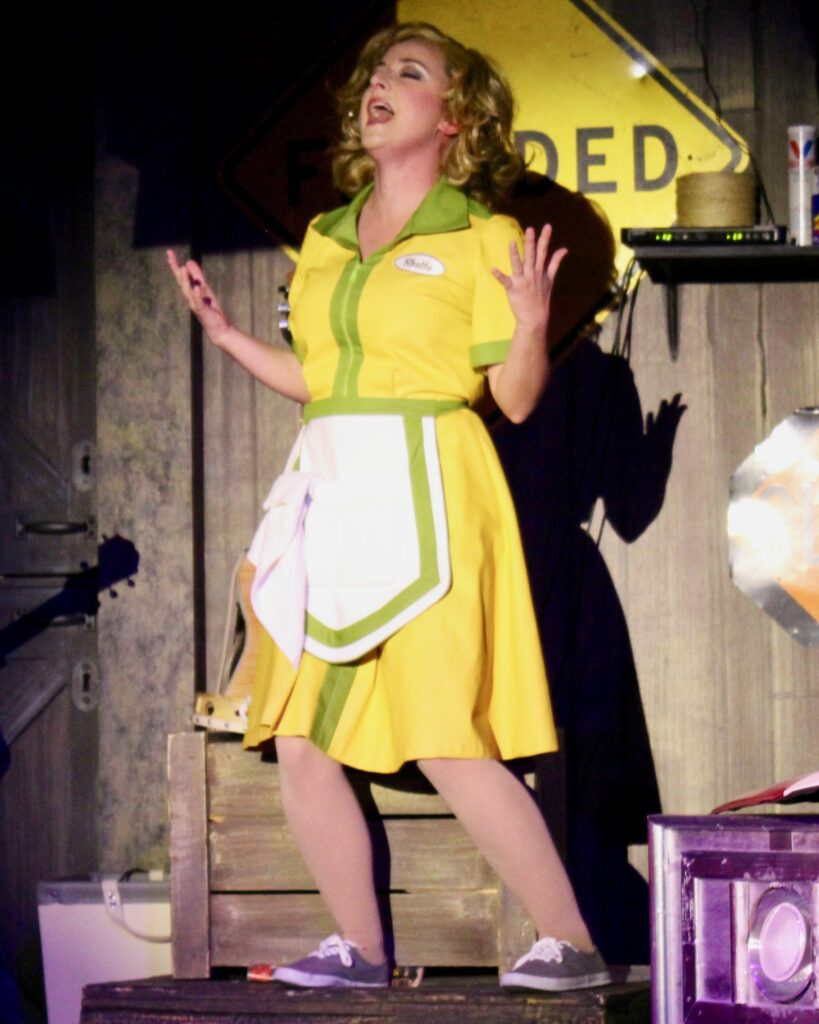 Gutierrez has a couple of quiet moments alone with the audience during the ballads "Fisherman's Prayer" and "Mamaw," in which his eyes—as well as his sweet, mellow voice—shine. Morrow as the band's bass player plays quintessential back-up, but when the Pump Boys play "pump rock" he certainly makes his mark.
When Moore belts out her a cappella plea "I need a vacation," the whole troupe (as well as the audience) is ready to go; and when she and Worley-Beck as the Cupp sisters agree with L.M. (Schenfisch) that "Every girl wants a man with a farmer tan," the house can't help but respond with hilarious and well-deserved hoots and hollers.
Even a disco ball gets into the act when cocky Jackson (Fiore) leads the ensemble in putting on their "Drinkin' Shoes."
Because there is no real book to this show, transitions between songs are a bit tricky at times, but these will likely smooth out as the production gets its legs and timing down pat.
As advertised, Pump Boys and Dinettes at The Great American Melodrama is a toe-tapping, one-of-a-kind experience that will register on your fun-meter for months to come.
But wait, there's more! The Melodrama wouldn't be the Melodrama without the vaudeville review that caps off the evening. This time around it's Too Much TV, which echoes the main show with its eclectic range of singing, dancing and jokes. The final round of the review, "Ghost Chickens in the Sky" (don't ask, just go and see for yourself) will send you cackling into the night.
---
Pump Boys and Dinettes followed by Too Much TV Vaudeville Revue is playing now through March 8 at The Great American Melodrama, 1863 Front Street, Oceano. Tickets here or call 805-489-2499.