There is much in SLO REP's Deathtrap to amuse an audience looking for an evening of made-up murder and mayhem.
---
So . . . you would be hard-pressed to find a more amiable production of a "comedy-thriller" than that on display this fall at San Luis Obispo Repertory Theatre through November 17.
Deathtrap, also referred to as a "roller coaster comic thriller" in the program, first appeared on Broadway in 1978, though it is likely more people will have seen the movie adaptation in 1982 starring Michael Caine, Christoper Reeve and Dyan Cannon. (Remember her? If you don't, clearly you are not "of a certain age.")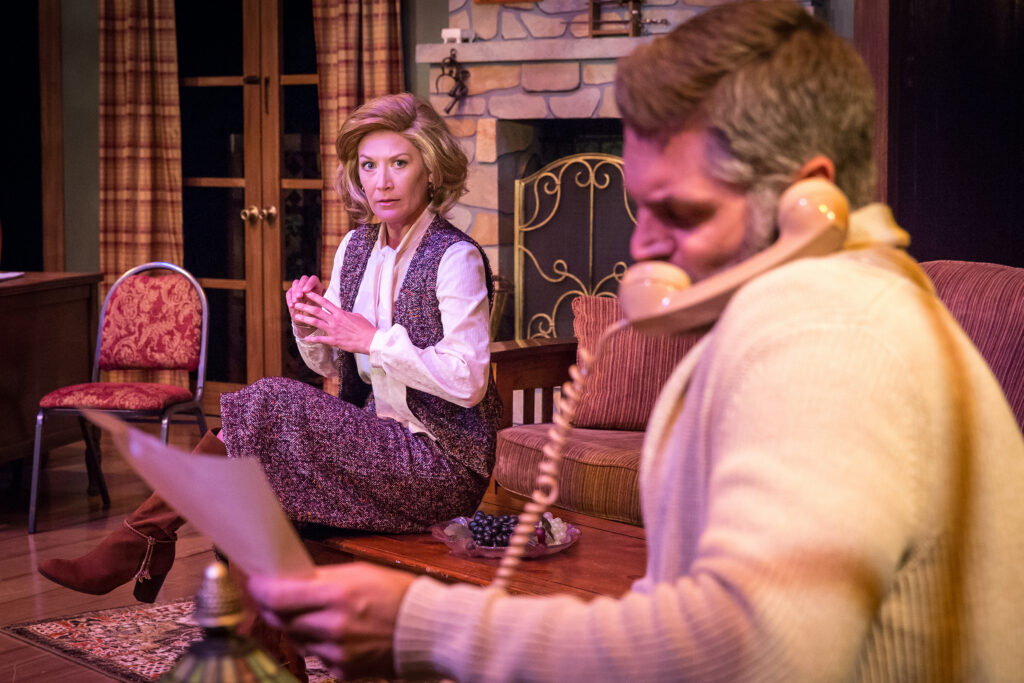 Those who are old enough to remember Ms. Cannon have surely, sometime in the last 40 years, been exposed to some incarnation of this plot-driven, twist-laden story of a playwright who may . . . or may not . . . be prone to murder. If so, then seeing this congenial production affords you the luxury of watching a tightly-choreographed tale come to its self-referential and satisfactory conclusion.
On the other hand, if you've never seen this much-revived play, its surprises may, well, startle you a bit, but the crackerjack lighting and sound effects (cue the lightning and thunder!) pretty much telegraph most every twisted turn of events.
There is much in SLO REP's Deathtrap to amuse an audience looking for an evening of made-up murder and mayhem. Strong performances by Michael Brusasco and Melinda Parrett (both pros making their SLO REP debuts) as the writer and his wife bring out the best of playwright Ira Levin's pithy, often snarky, dialog. When another writer played by a very amusing Cameron Parker joins the fray, events are set in motion that perhaps in the late '70s were a bit more shocking to audiences.
SLO REP's production crew faithfully recreates the setting, attire and accoutrements of the time period, and the players make good use of the impressive collection of antique firearms and other weapons on display on the walls of David Linfield's impressive set. Other ancient props, like typewriters and touch-tone telephones, help set the stage (a shout-out here to Sammy Boyarsky, who is credited in the program as props intern).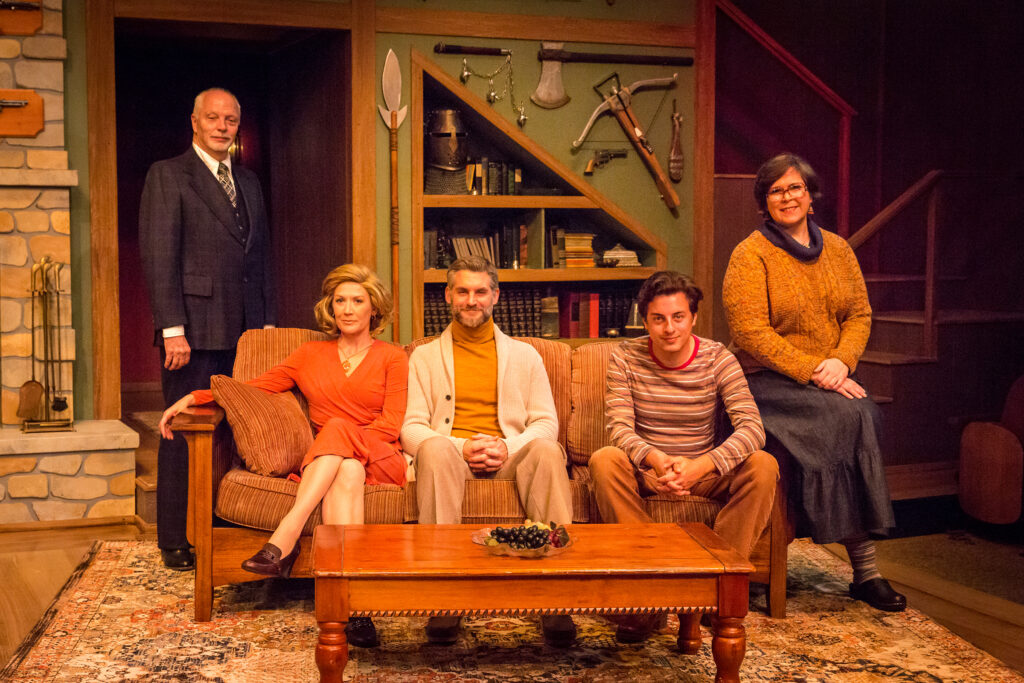 There are tussles, giving the actors a chance to display their form (and that of veteran fight director Peter Hadres). There are declarations, such as Brusasco's definitive opening line, that frame the narrative, and director Kevin Harris has cleverly worked with his players to punch up the best of them. There are dashes of unexpected humor and distinctive vocalizations, mostly present in the character of psychic Helga Ten Dorp (played here with verve by Zoia Wiseman).
And in the program there is . . . a "Glossary of Terms Used in Deathtrap." Entries explaining The Amazing Kreskin and The Merv Griffin Show among other, mostly theatrical, references, are on display, presumably for those who are not "of a certain age" or who take their theatre-going a bit too lightly to make inquiries about unfamiliar terms all on their own.
It's clear that SLO REP aims to please, and a pleasant experience certainly awaits those who buy tickets to this "roller coaster" of a ride.
---
Deathtrap plays now through November 17 at San Luis Obispo Repertory Theatre, 888 Morro Street, San Luis Obispo. Tickets HERE or call 805-786-2440.