Thanks to director/wrangler Kevin Harris, his delightful cast of characters and musicians, and a crew that provides first-rate support, SLO REP's production of Always…Patsy Cline radiates heart, grace and style.
---
So . . . director Kevin Harris must have had his hands full as the person in charge of wrangling the two talented performers now gracing the SLO REP stage into the theatre's production of Always…Patsy Cline.
Not to imply that Greta Kleckner (a warm and steady Patsy) and Suzy Newman (a rip-roaring fan of Patsy's named Louise) are a handful. Rather these two remarkable women display such grace (yes, even the very enthusiastic Louise) and style (yes, even the very down-to-earth Louise), and they have absorbed the essence of their characters so much, that keeping them on script and inside the musical's more than two-hour running time seems a miracle. At the end of the show, both performers act like they could keep going, heartily and eagerly.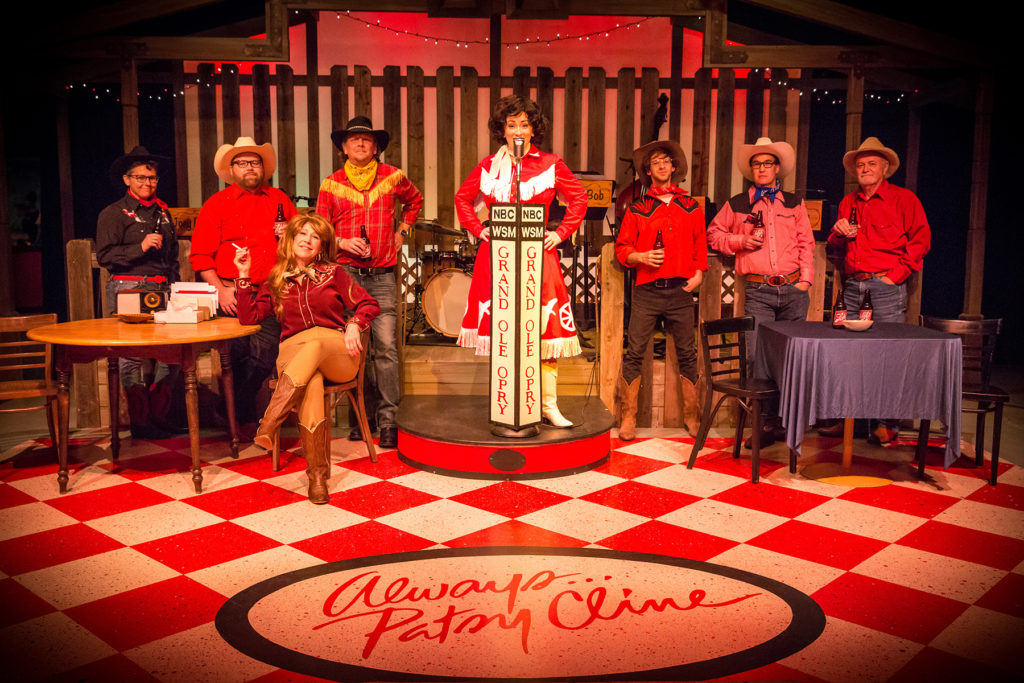 And it's not just the principals—the onstage back-up band members seem to be having as great a time as Kleckner and Newman and, just as tellingly, the audience. Beers in hand, the musicians provide the accompaniment to the two-dozen-plus songs in the show, but also some sly looks and sound effects as appropriate.
Musical director Wendy Feaver (Joey Bob) keeps her fellow instumentalists in line and on task, but every single one of the "Bobs" plays to the heart of the show: John Clarke (Jim Bob) on steel guitar, James Gallardo (Jay Bob) on bass, Evan Goldhahn (Bob Bob) on drums, Paul Lee (Ray Bob) on fiddle, and Gary Wooten (Billy Bob) on guitar. These adept "Bodacious Bobs" should consider staying together and taking their own country show on the road.
The behind-the-scenes crew should take a bow as well. Costumer designer Randon Pool had to design only one outfit for Louise, but Patsy has at least 10 performance outfits, from pure country with fringe and boots to slinky, sequined evening attire. And the wigs! Emy Authier has a heyday matching all of them to the costumes and characters.
Newman's character carries the narrative burden of the show, interacting one-on-one—even dancing—with audience members in between songs, which range from ballads (Your Cheatin' Heart, Sweet Dreams, You Belong to Me) to sure-fire hits (Walkin After Midnight, Crazy, True Love). Louise even joins in on a song or two.
Kleckner takes her time from the beginning, working up to a full-throated rendition of Lovesick Blues by the end of Act 1, staying at full throttle throughout Act 2. A highlight of the first act is VF "Pappy" Stewart's familiar tune Come On In (And Sit Right Down), while the rousing Bill Bailey sends the audience home humming (if not downright singing) after the finale.
Thanks to director/wrangler Harris, a delightful cast of characters and musicians, and a crew that provides first-rate support, this production radiates heart, grace and style. It is positively welcoming in the best tradition of down-home hospitality.
As Harris says in his program notes, "Come right in, sit right down, and make yourself at home."
---
Always…Patsy Cline plays now through March 8 at San Luis Obispo Repertory Theatre, 888 Morro Street, San Luis Obispo. Tickets here or call 805-786-2440.