By Charlotte Alexander
Written and published in 2012
So . . . there is absolutely no respectable reason that the PCPA Theaterfest production of Shakespeare's "Romeo and Juliet" – currently lighting up the Marian Theatre stage in Santa Maria – should be playing to less than packed houses night after night through its current run ending May 13. That such a splendid entertainment may indeed suffer less-than-stellar box office business must be blamed on a skittish, or worse uncaring, public fearful of intellectual challenge, rather than on the fine work in evidence.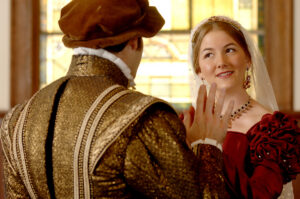 Start with the director, Patricia M. Troxel, whose haunting, amazing "Macbeth" graced the PCPA stage in 2010. This gifted interpreter of the Bard once again provides a masterful vision that her first-rate crew of designers bring to life for actors and audience alike. Scenic designer DeAnne Kennedy, lighting designer Tamar Geist and costume designer Cheryl Odom work together to provide a sensuous package in which the actors revel.
From the opening bit of onstage illumination, the multi-story single set positively glows from within and without. Based on an aesthetic described in the program as a fusion of "Veronese/Roman architecture of viaducts, arenas and bridges with the Venetian taste for ornament, stone/marble work, and play with light and shadow," the production design carries a diffused warmth throughout as the play progresses from city street to Capulet home to final resting place for the star-crossed lovers.
This forward movement is energetic and entertaining, though the production is almost three hours long (with one 15-minute intermission). An all-encompassing street fight – an intense fray featuring rapiers, daggers and cudgels and expertly choreographed by Mark Booher – ignites the action in Act 1 and sets the lively pace for the entire evening. Most of the players keep step, even when mere words are the weapons of choice.
Case in point is the clever and wonderfully nimble Quinn Mattfeld as Mercutio. His animated and slyly punctuated Queen Mab speech is a virtuoso performance in itself. He is matched by PCPA veterans Evans Eden Jarnefeldt (Benvolio), Erik Stein (Lord Capulet), Elizabeth Stuart (Nurse), Andrew Philpot (Friar Lawrence), Michael Jenkinson (Escalus) and Peter S. Hadres (Lord Montague).
Tony Carter as Tybolt and Shae Palic as Juliet bring an intelligence and clarity to their roles that endear them to the audience. J.R. Yancher's approach to Romeo, while intense, at times lacks a certain confidence that would free him to embrace the complexity and passion of his character.
There is without a doubt a chemistry between Yancher and Palic that serves the production well. Palic is a luminous Juliet, with a delicate beauty and strength of spirit that engages the audience from her first faraway look of yearning to her final, dreadful decision to join her Romeo. Outfitted in rich burgundy, even wearing a scarlet cape at one point, this Juliet is neither timid nor hesitant.
In the "Behind the Scenes" department, the costumes, with their heavy velvets, metallic ribbonwork and gleaming brocades, are glistening and gorgeous on the well-lit stage. Keeping all of them in working order during intense usage by two dozen performers for some 20 performances is a challenge for which wardrobe supervisor Alicia Haneiwich and her assistants Aislynn Penermon, Amanda Salmon, Mary Whitestine and Yeoun Lee should be recognized and lauded.
PCPA Theaterfest's "Romeo & Juliet" runs through May 13 at the Marian Theatre in Santa Maria.