This year's Holiday Extravaganza keeps The Great American Melodrama's reputation for talent and tradition alive.
---
So . . . three for the price of one? Who could refuse such a deal? Especially when it comes to having a holly, jolly Christmas this time of year?
That's right, The Great American Melodrama's Holiday Extravaganza is back, with its traditional rendition of "A Christmas Carol," a fractured fairytale operetta "The Three Little Pigs," and a Central Coast Holiday Vaudeville Review that wraps up a cheerful evening of sleigh bells, impish opera jokes and instructions on celebrating the season in Pismo Beach sand instead of midwestern snow.
Each of the evening's three acts is about 45 minutes long, so you'll have plenty of time to sit back and enjoy the show, re-fuel during the two intermissions, and relax into Christmas tales and tunes that will carry you forward to the new year.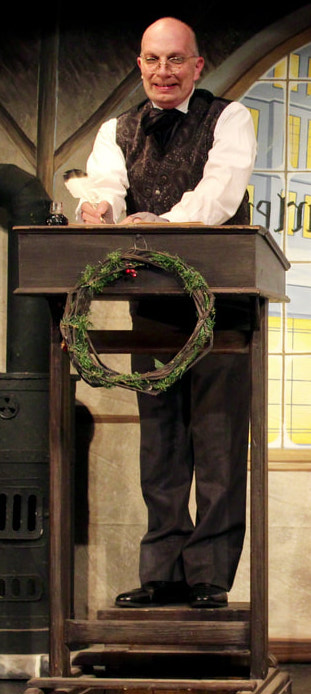 It must be said from the start: no one, no one, no one on the Central Coast does Ebeneezer Scrooge in "A Christmas Carol" as delightfully and as engagingly as Billy Breed. This veteran actor could probably do this role in his sleep by now, but when you see him kick up his heels following the haunting revelations of his Christmas eve visitors, you can't help being caught up in the joy he brings to his role as well as the joy of the season he inspires.
Joining Breed in the first act's best moments are Ben Abbott and Katie Gucik as the Cratchits, who along with a passel of cheery, cheeky children don't disappoint, and Jocelyn Lonquist, whose high-pitched voice channels Billie Burke as the Ghost of Christmas Past. Director Dan Schultz has made this one of the Melodrama's most straight-forward and pleasing "Carols."
The second act features "The Three Little Pigs," a mishmash of a fable that features not just the title characters but a meddling Fairy Hogmother (Madison Kisst, who of course pulls her hamstring), and a Peddler Man (Toby Tropper, apparently headed to the Nipomo Swap Meet). This tale will delight the children who revel in all things piggish, including porcine noses and well-placed oinks.
The third act is for the adults, who if you are repeat customers will go home happy once again having enjoyed the Melodrama's condensed, water glass performance of the Nutcracker Suite and the sheer exuberance of the now infamous "Reindeer Rap." Along the way you'll enjoy director and choreographer Eric Hoit's staging and musical director Thomas Buckley's arrangements of "White Christmas," "Get a Tan" (sung to the tune of "Let It Snow") and a host of other old-time favorites.
The Great American Melodrama is one of the area's most treasured institutions, and this year's Holiday Extravaganza keeps the theatre's reputation for talent and tradition alive.
---
The Holiday Extravaganza is playing now through December 31 at The Great American Melodrama, 1863 Front St. in Oceano. Tickets here or call 805-489-2499.