Do not miss The Mark of Morro—a guaranteed good time with lots of good laughs.
---
So . . . The Great American Melodrama in Oceano proudly proclaims they have been "Making Merriment Since 1975." No truer statement has been uttered—ever—and the proof is in the Melodrama's most recent production, The Mark of Morro.
Merriment is indeed the order of the day as a delightful cast of seven effervescent actors/singers/dancers stride, swagger, and sashay across the stage, which is dressed to suggest the modern-day campus of CSO (that's Cal State Oceano, for the uninitiated).
Wait, what does Oceano (Cal State or otherwise) have to do with "El Morro," this show's very very very thinly disguised reincarnation of the swashbuckler who sports a black mask, cape and rapier—the guy who is reputed to have fought for the underdog in early 19th century Alta California?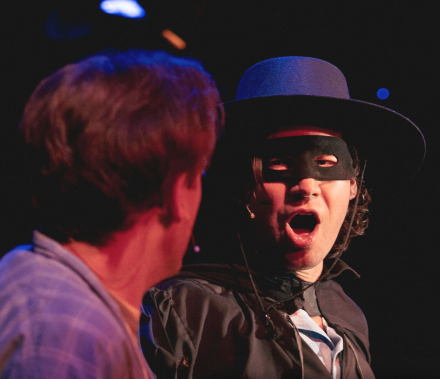 The answer lies in CSO first-year student Mark (an irrepressible Mike Fiore), the underdog of this story and an ardent fan of El Morro, who is the star of Mark's comic book—oops, graphic novel—collection.
Mark and five of his fellow students are caught up in a tragedy of underfunded extracurricular student activities, with CSO Dean DeVille (Billy Breed in full harumph mode) the likely culprit (no spoilers here—he is of course guilty as all get out). Not the usual life-or-death struggles usually associated with heroes and villains, but a recent audience had no trouble issuing the requisite Melodrama boos and hisses along with appreciative cheers when right challenges might and of course right triumphs (as it always, always, does at the Melodrama).
Mark doesn't get to the win (singing and dancing—with an homage to The Music Man's "Ya Got Trouble!" no less) without the help of theatre-student-without-a-theatre-department Kevan (John Keating, who doubles as El Morro and is absolutely superb); fellow nerd and math whiz Penelope (newcomer Gabrielle Smith, whose voice is a great addition to the Melodrama stage); Dax (Hank Fisher, who finesses a role requiring the physical projection of a high school jock with a good heart and an ultimate sense of—wait for it—the right thing to do); donnish and scary December (Meggie Siegrist, who quite handily suggests there's a lot more underneath December's "mildly moderate manner" than meets the eye); and the not-so-helpful MacKynzi (Sydni Abenido, who evidences enough energy to keep Diablo Canyon Power Plant humming along for a year).
Melodrama veterans Eric Hoit and Jordan Richardson, who wrote the show in 2014, created an enjoyable diversion for modern times out of a comic book—sorry, graphic novel—idea. But it is the able direction by Hoit and musical direction by Alessandra Alcala, supporting such a well-seasoned cast, that brings the script and musical numbers to life in this exuberant escapade. It, as well as the fractured fairy tales of the "Once Upon a Vaudeville Review" that follows, is adroitly accompanied by Camille Vellalpando Rolla, who keeps her piano-tickling fingers busy every night keeping up with all the shenanigans onstage.
If you have never been to the Melodrama, or you haven't seen a production in two years, or you saw the most recent production of Sherlock Holmes and the Sign of the Four—in other words, each and every one of you—do not miss The Mark of Morro. Take your family, find a friend, celebrate a birthday or an anniversary. You are guaranteed a good time and good laughs.
---
The Mark of Morro plays now through June 18 at The Great American Melodrama in Oceano.