All told, SLO REP's production is A Christmas Story to remember, and to remember fondly.
---
So . . . "Christmas is upon us"—and no truer words are spoken in the play-adapted-from-the-movie-adapted-from-a-book A Christmas Story. They are intoned with just the right mixture of cheer and longing by the adult character Ralph Parker (skillfully played by Don Stewart) in the first few seconds of SLO REP's latest rendition of the almost-a-classic, nostalgia-filled story.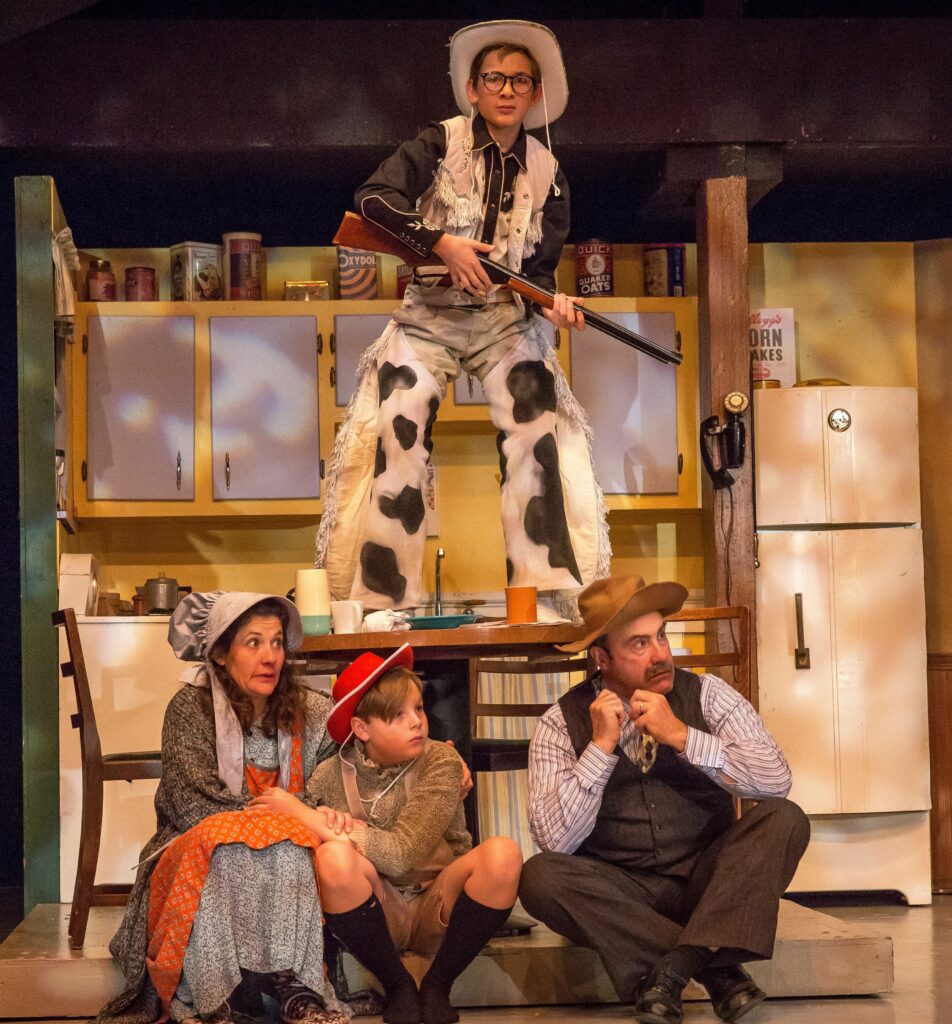 Ralph invites the audience to remember with him the agonizing days endured by his younger self, a nine-year-old Ralphie Parker (played by a heartbreakingly genuine Coen Carlberg), leading up to a Christmas in the midwest in the '50s. Even if you haven't endured the harsh winters or the middle-school playground pranks or the antics of a younger sibling laid bare in the storytelling, you will find yourself smiling at Ralphie's quest to acquire a Red Ryder Carbine Action 200-shot Range Model air rifle—in essence, a BB gun. A BB gun that elicits an immediate "You'll shoot your eye out" from the versatile Rachel Tietz as Ralphie's teacher Miss Shields and a perfectly-cast Alicia Klein as his mother.
Indeed, this production comes as close to perfection in its casting as any of the previous re-tellings of A Christmas Story at SLO REP—and there have been at least six. Under the astute direction of SLO REP's managing artistic director Kevin Harris, this group of five adults and six children becomes a close-knit cohesive whole that keeps the play dashing toward its satisfying conclusion in just under two hours, including intermission.
Ralphie's family encompasses not only his long-suffering mother, but also his father (Seth Blackburn) and younger brother (Kyan VanderWeele). Blackburn stands out for his robust embrace of his position as the "man of the house," while VanderWeele essentially steals the show with his energetic escapades and epic whining. His natural stage presence makes him a young man to watch as he grows into older roles.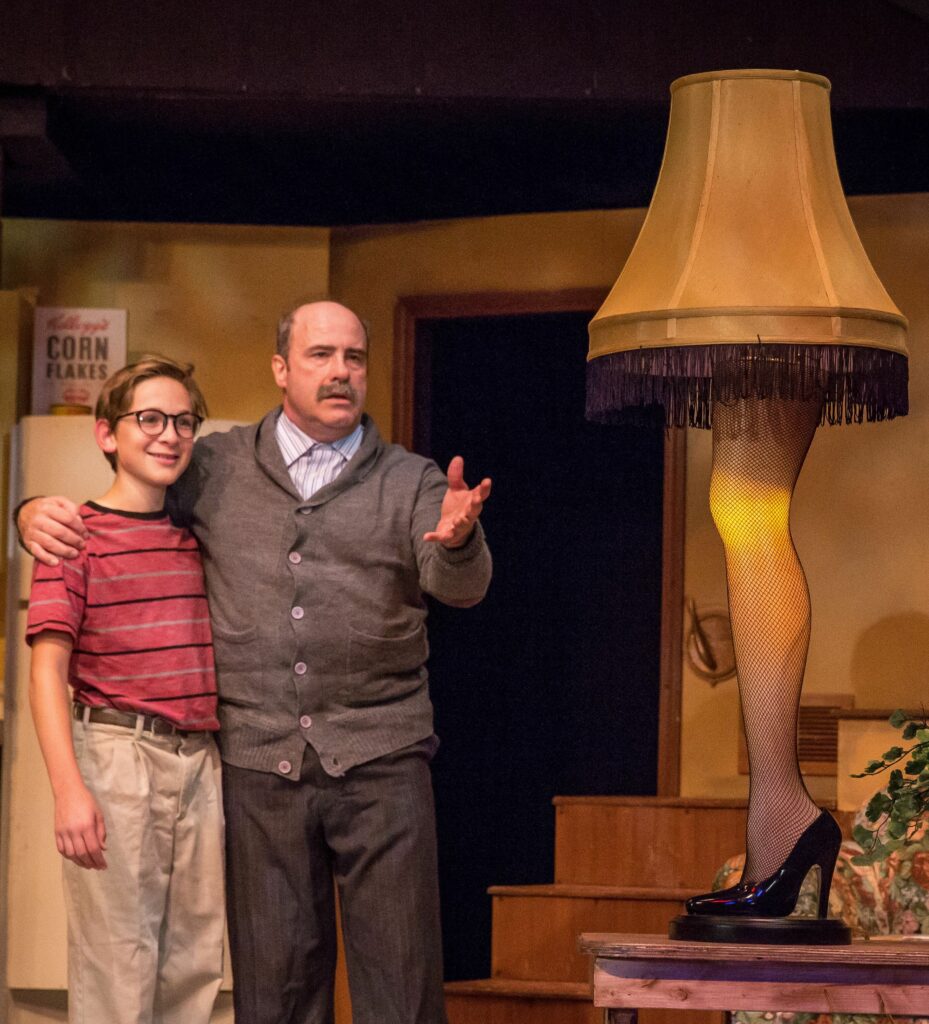 Practice must make perfect, because when the adult Ralph and the child Ralphie are onstage together, Stewart and Carlberg have perfected their movements and timing, much to the delight of the audience.
The other children, each one cleverly played by Owen Blackwell, London Raftery, Zachary Schuetze, Addisyn Tejada and Drew VanderWeele, take on their various roles with a sense of fun that looks easy but takes deft direction to coordinate and bring alive.
There are some very funny fantasy sequences derived from Ralphie's overactive imagination that Harris and costumers Randon Pool and Megan Selby take special delight in staging, and the lighting (designed by Harris) and sound (designed by Stewart and Harris) are first-rate.
Once again David Linfield nails the scenic design, with set changes flowing smoothly and flawlessly thanks to stage manager Pam Hester and her assistant Genevieve Blauvelt, who make it all look seamless.
All told, this is A Christmas Story to remember, and to remember fondly. Even if it isn't reminiscent of your Christmas past, it can serve as a reminder that, indeed, Christmas is upon us, with heart-warming stories to unfold. This Christmas, SLO REP is the place to let one of them touch your heart. Take the whole family for a truly wonderful tale, well-told.
---
A Christmas Story is playing now through December 22 at San Luis Obispo Repertory Theatre, 888 Morro Street, San Luis Obispo. Tickets here or call 805-786-2440.